I'm incapable of writing about every bitty detail of my September 12 wedding. I do however love pictures and I wanted you guys to know that despite my bridal aloofness, I did not boycott all frivolities. I embraced many of them with an open and girlie heart. I love throwing a party!
So for those of you who have asked me to share wedding details and the wedding bridal veil, here's a picture play-by-play.
(FYI: I'm not wearing this lovely Sarah Seven dress, but I do think her designs are wonderful. Visit Sarah's website. She lives in Portland, Ore., where I imagine her life is endlessly hip.)
Today I was inspired to add blue to my wedding. (See above collage by Blissful Mama.) It wasn't until I walked past my bathroom and saw Joe's orange towel draped over the shower curtain that I realized why my brain has been swimming with turquoise, brown and orange. I see it as a homage to Florida and New York, though I haven't settled on it yet. Who knows, by tomorrow I might think it's awful.
 My mother thinks I'm nuts, but you can see now where the color combo came from.
I'm in the middle of making personalized birds nests. While these will function as placeholders and favors, they are not the only wedding favor. Joe blew my cover on the nests last week when he announced on his Facebook status that he was, "sitting on the couch working when the UPS man arrived with a box of 120 bird's nests. You never know what the day will bring."
Because of my recent infatuation with color, I can't decide if I want turquoise heels …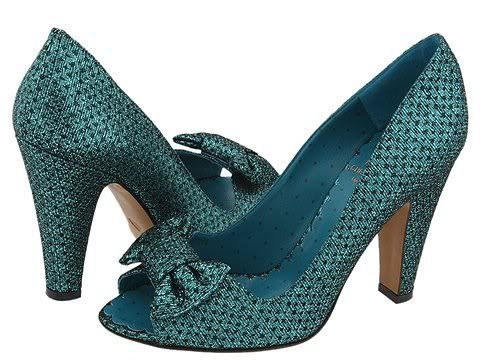 Or orange heels …

The bridesmaid dresses are truffle. Not mocha. Not chocolate. Not amaretto. Not coffee. Truffle. And they're all different styles of short. I let the girls choose.
And if we do end up going with a splash of turquoise, I think I'll get them these earrings.
The tux situation is Joe's domain. But I can't decide if we should do this turquoise & orange thing. Should the ties be orange? Turquoise? I need your help, Meg, Tabitha, any other woman who has ever offered to give wedding advice. I'm finally at a point where I can discuss this stuff. I need someone to tell me if I'm making a ghastly mistake by combining orange, brown and turquoise.
Am I brilliant? Or on crack? Give me your opinion. Dudes, you too. I need feedback. I'm about to make a life-altering decision.
As far as floral ambiance goes, Mothership is wrapping potted mums in burlap sacks and scattering them around the lodge.
And I'm hanging a photo clothesline at the bar. Remember: I'm nuts about clotheslines. I think I'll get orange clothespins. Or brown clothespins. Or maybe orange and brown. Arrgghh. What's wrong with me?
Oh! The wedding is at a ski lodge …
In Ellicottville, NY.
The ceremony is on a hill, atop which our guests will arrive via chair lift.
When my Nana heard we were firing up the chair lift, she told my mom, "I'm not running and jumping on that thing. I'll fall flat on my ass."

Speaking of Nana, she gave me her old typewriter! Her father gave it to her when she graduated from high school, which makes it, what 25 years old? (I did that to humor you, Nanie.) It's a 1948 Smith Corona in its original carrying case. All it needed was a new ribbon. We're using it in lieu of a guestbook. I can't take credit for the idea though. It was something Ro saw on this Do-It-Yourself Wedding blog. Check it out. The couple's wedding was gorgeous. I LOVE THE BRIDE'S SHOES.
So onto the cake. This one is my idea. Joe and I love ice cream. We're obsessed with it. If we ain't eating ice cream at night, we're eating chocolate cake. Actually, as I'm typing this I'm eating chocolate cake. I had originally pictured a fancy tiered cake with fall-like flourishes and all that foof, but after calling around for prices Joe and I decided to go with Dairy Queen ice cream cakes. My mom is baking us something small and special for "cutting photo op purposes." We couldn't be more pleased with this decision. To make matters even better, our caterer offered to waive her asinine $150 cake-cutting fee.
We have lofty ambitions for our wedding programs. Since we both write for newspapers, we want to design and print newspaper-esque wedding programs. Earlier this week, we emailed writing assignments to the people closest to us. We're planning a killer issue. Cross your fingers, folks. This one is an undertaking. If you're one of the chosen few we emailed assignments to and you're reading this, we are truly grateful for your participation.
Oh, and Cubbie is the ring bearer! And yes he's wearing a tux and a top hat.